The Oregon Coasters
---
Cultivating Coasters
Young Entrepreneurs Build a Business
Written By Connor Corr
Oregon Coasters thrived from an idea to a company in a matter of seconds. The University of Oregon's E-Business club started the company from the ground up after a simple idea was proposed. President Michael Lunzer and Vice President Ian Watson had been looking for new members to join their club, when they realized they weren't attracting the attention they had hoped for with small tech-gadgets at their weekly meetings. After sitting down for a drink and thinking of their resources at hand, Ian mentioned the architecture school's laser cutter. Alas, a ring on the coffee table appeared in Michael's living room, and the idea was born—wooden coasters in the shape of the state of Oregon. Ultimately, the two thought beginning the company Oregon Coasters would be a promising idea, utilizing local resources to target local Oregonians. Excited to build their business, co-founders Ian Watson and Michael Lunzer began the journey.
The University of Oregon E-business club was lacking attendance and motivation until Ian and Michael came up with the idea of beginning a company that produced coasters. The E-business club became revitalized, and attendance more than doubled, Ian explains, "Once we did this our membership increased drastically." Members of the club quickly backed the idea of producing a coaster in the shape of Oregon. After the conception of Oregon Coasters, Lunzer and Watson turned to the resources of their club members and the university to jumpstart production. To design the prototype the E-business club utilized the laser cutters in Lawrence Hall. After cutting the wood coaster in the shape of the state of Oregon, Watson and Lunzer decided to add a feature to each coaster to make it unique.
Watson came up with the idea to incorporate the city of Portland. Born and raised in Portland, Watson wanted a way to represent his hometown that would also be relevant to students at the University of Oregon. Watson came up with the thought to engrave different Portland bridges on each coaster. Growing up in Portland, Watson holds many childhood memories of the Portland bridges and knew that it would easily tap into the Portland market, "Portland is known for its bridges and Portlanders like to express their Portland pride so we think that our product will stand out to our market perfectly." Each of the twelve coasters is inscribed with drawings of the twelve of Portland's famous bridges, causing the coaster to resonate with a larger audience. Lunzer contracted Andrew Seaton, a digital arts major at the University of Oregon, to design the specialized inscription of each of the twelve bridges. Yet, Oregon Coasters market audience is not singularly Portlanders. Oregon Coasters hopes to pertain to a large market audience of not just Portlanders or Oregonians. Oregon Coasters hopes to infiltrate both University of Oregon students who come from out of state. University of Oregon student Corrie Smyth, and native Californian expresses a connection to the coaster, "I grew up in California, however I have found a second home in Oregon. It would be nice to have an Oregon coaster to take with me wherever I find myself settling throughout life." Oregon Coasters appeals to any student at the University of Oregon because it serves as both a sentiment and memento to remember their college experiences.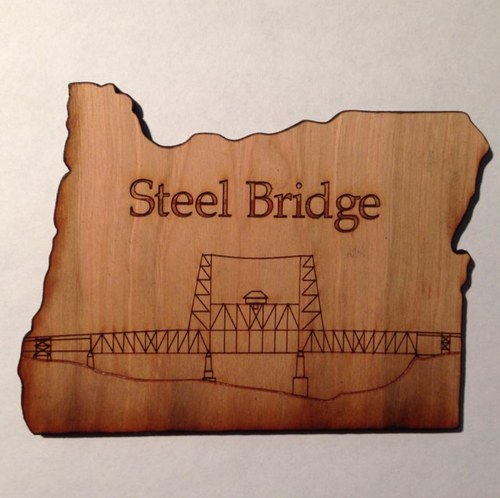 "A major takeaway from starting a small company is surrounding yourself with passionate and interested people. I've had to wear many hats during this experience, and each day is a new adventure."
---
Lunzer and Watson believe that their product will be able to span over several different markets because of the coasters' functionality and distinct features. Oregon Coasters is not limited to specific age demographics because it holds ties to several different cultures within Oregon. Oregon Coasters is relevant to consumers ranging from college students hosting a party to small coffeehouse owners. Watson hopes that the coasters form a distinct bond with the brew culture within Oregon, "…specifically Portland, is well known for its abundance of fine beers and breweries so there was a natural connection." Lunzer and Watson ultimately believe that their product will succeed because it is representative of Oregon, and more importantly is representative of Oregonians and their culture, "People react positively to our product because of their experiences here which creates strong ties to the state."
A large draw to the Oregon Coaster is that all coasters are produced in and by Oregon resources. The wood is taken from Oregon trees and is engraved by University of Oregon machinery in Lawrence Hall. Lunzer and Watson have made it essential for customers to know exactly where, and from what, their product is made from, Watson reasons, "We wanted to keep manufacturing and marketing as local as possible. The coasters are cut on campus which is very convenient." Consumers can feel satisfied knowing that they are supporting a local start-up business, Corrie Smyth admits, "It's nice to know that with a simple purchase I can help local businesses, especially if that business is just starting up."
Each coaster is engraved with one of the twelve famous bridges of Portland, reaching from The Ross Island to The Hawthorne to The Morrison. The coasters are available in both natural wood, and green, and only cost ten dollars for six coasters. Oregon Coasters is an online-focused company that is easily assessable to all Oregonians who wish to order their own Oregon coasters. Oregon Coasters is starting a Kickstarter page in efforts to get support from the local community of Eugene. Oregon Coasters will use the money customers pledge on Kickstarter to begin expanding their newly founded company. Oregon Coasters hopes to branch out to make coasters representing the West coast, such as; Washington, Nevada, Idaho and districts of California. By pledging for Oregon Coasters you will be helping to pay for the production as well as material costs needed to distribute the product. Co-founders Watson and Lunzer are simply proud of their achievement of completing the process of creating a functioning business, Lunzer explains, "A major takeaway from starting a small company is surrounding yourself with passionate and interested people. I've had to wear many hats during this experience, and each day is a new adventure."